Open Source Telecommuting as Alternative to GAFAM : that is what GoFAST promotes at this time of crisis.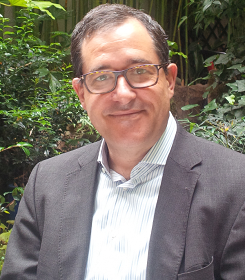 Christopher Potter, President and Founder of CEO Vision
"This crisis has shown the sovereignty issues", said Christopher Potter, president and founder of CEO Vision. He gave birth to the collaborative platform GoFAST, based on Open Source, whose aim is to offer a serious European alternative to Office365 / SharePoint, and to a lesser extent to Google Docs / Drive. "We depend on China for the source of masks. In the digital field, we have already had alerts with the Cloud Act or  the blackmail of Facebook on Cern", he continues.
"We highlight French industrial products, but not IT and digital ones", he regrets. "Now Europeans have the sword of Damocles above their heads. Open source is known at the level of technical layers, but not by the end user, especially since the mainstream media do not relay it". And that is why the software vendor is campaigning to promote them (see Box).
"We assembled the best open source bricks, which we integrated and tested, and we added the user interface as simple as possible and functionally powerful. We stand up to Microsoft on a large part of their product. Microsoft sells everything in SaaS in its datacenters. GoFast can be hosted in a sovereign SaaS, that is, a datacenter in France or in Europe with European shareholders, not submitted to the Cloud Act, or hosted in the customer's datacenter, in an on-premise version."
"GoFast makes 80% of its turnover in the public sector, which is clearly ahead of the private sector", says Christopher Potter, "with directives, texts, circulars, votes in the European Parliament to promote the Open Source. The very important advantages, in addition to sovereignty, are also sustainability, reversibility and very significant cost reductions", the founder recounts.
CEO VISION PROMOTES OPEN SOURCE PRODUCTS  
The software vendor offers its own solutions, first with GoFAST Digital-Workplace Community to replace the file server and manage documents and tasks. The solution is available for free download to install on-premise, at any outsourcing company, and on AWS in a few clicks.
Then with Riot Matrix, claiming to replace Teams or Slack. This technology is used by the French government, via their Tchap messaging system, and by Thales (Citadel). It allows to centralize all group or one-to-one discussions, on PC or smartphone and to launch voice / video calls.
OnlyOffice will replace MS Office. It is possible to edit and co-edit documents simultaneously through a web browser. The solution is free if on-premise, and free for 1 month in SaaS mode.
Finally, the software vendor promotes Bluemind's French email server solution, MS-Exchange compatible with Outlook and Thunderbird, as well as the Jitsi meet Web conferencing solution.